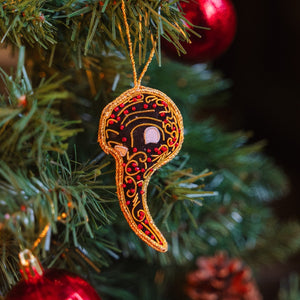 The plague doctor mask is widely considered to have been perfected by a famous 17th century French physician named Charles de L'Orme. During the 1619 outbreak of the plague in Paris, he stuffed herbs and spices into a powerful hooked nose, resembling a long beak, to keep out the "bad air" that was believed to cause the plague. 
The costume quickly spread to other countries throughout Europe, used by physicians such as George Rae in Edinburgh. It even ended up becoming an iconic Carnival costume in Venice, where the plague doctor mask took on a more sinister meaning given the memory of fear attached to the symbol. 
Our Plague Doctor Hanging Decoration is a perfect festive adornment to gift to anyone with an interest in this dark period of European history, or a fascination for our iconic attraction. 
Information
Dimensions: (L) 150 x (W) 85mm