From Edinburgh's Historical Heart
Welcome to The Real Mary King's Close online shop, where we proudly showcase
the finest offerings from our Burgh Courtroom Gift Shop, nestled at the heart of our attraction.
Explore our range of collections, each curated to reflect the unique legacy of Mary King's Close. Whether you're seeking a gift for a history enthusiast or simply a memento of Edinburgh's rich heritage, our selections cater to all tastes. From the Mary King's Exclusive collection to the characterful Plague Doctor collection, our online store promises a bespoke shopping experience filled with locally sourced gifts, artworks and artisan products that capture the essence of Edinburgh's rich history.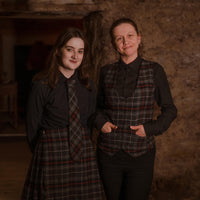 The Real Mary King's Close Tartan
A large part of the success of The Real Mary King's Close can be attributed to the Guest Services team, whose uniforms consist of either a tie, waistcoat or kilt embroidered with The Real Mary King's Close tartan, designed by Kinloch Anderson in 2013.
Rich red links the tartan to the location of Mary King's Close on the Royal Mile, while shades of grey reflect Edinburgh's historically smoky skyline and architectural make-up. Bright white celebrates the city's leading role in philosophy, literature and medicine during the Scottish Enlightenment.
Browse our signature collection of tartan dress and accessories to bring a swatch of Mary King's Close's fascinating heritage home today.
Dr Arnott
Dr Arnott, known for his unorthodox methods, was not your typical apothecary. His approach to examining his patients' health was as unique as it was unconventional – he would meticulously analyse their urine, scrutinising its colour, scent, and yes, even its taste!
Now, in our new Dr Arnott Collection, we pay homage to the curious spirit of this real former resident of Mary King's Close.
Within this collection, you'll discover an assortment of 17th century medical tubes, preserves, and apothecary jars that might just astonish you with their unexpected burst of flavour.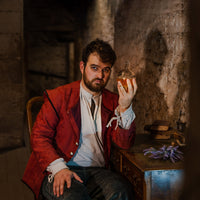 Apothecary Collection
17th century apothecary jars were filled with all sorts of natural ingredients such as herbs, spices, salts and insects, which were harnessed by local physicians to treat common ailments.
Explore the scents and remedies of Early Modern Edinburgh by browsing this beautifully selected range of hand crafted soaps, ingredient books and home décor. Each product pays homage to the locals and apothecaries who once trusted in herbal remedies to fumigate illnesses as familiar to us as the common cold, as well as historically infamous diseases as virulent as the plague.