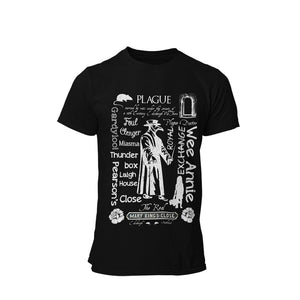 Featuring a chalkboard design print, this unique black T-shirt is designed and printed in Scotland and is exclusive to The Real Mary King's Close. The unique motif resonates with the vivid history of Mary King's Close and is sure to get heads turning. Make a statement that's both stylish and historical by buying one today.
Semi fitted for a modern fit. 
Information
Material:
100% pre shrunk cotton.
Features:
Ethically sourced and hand screen printed in the UK.
Sizing guide: S - 38" (Please note this is a small made small)

M - 40"
L - 42/44"
XL - 46/48"
XXL - 50/52"