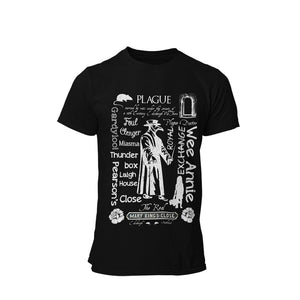 Back in the 17th century, the plague doctor was certainly a striking sight to behold. It's no wonder that he left such a strong impression on the citizens of Edinburgh. Capture your friends' attention with the distinctive plague doctor motif, artfully printed on the back of our Plague Doctor Chalkboard T-Shirt.
This unique design is exclusively created and printed in Scotland for The Real Mary King's Close. 
Available in 5 different sizes.