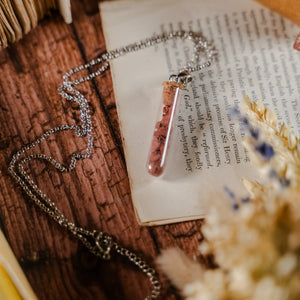 The Apothecary Test Tube Necklace is a perfect accessory for those who have signed up to become one of Dr Arnott's 17th century medical students at The Real Mary King's Close. However, be warned. His speciality was "internal" medicine. Dr Arnott's apothecary jars were filled with all sorts of veins, ligaments and bodily samples! 
As well as being an amusing nod to history, the necklace is a delicate addition to any jewellery collection. What's more, it pairs perfectly with the Apothecary Test Tube Earrings.
The necklace comes in a variety of different colours: indigo blue, ochre, stone, green and pink, among others. We can't guarantee that you'll receive your colour of choice, but if you leave us a note at the check out then we'll do our best to honour your request! 

Information
Dimensions (of tube): (L) 42mm x (W) 10mm